Some Partners & Projects
Presence in Action (PIA) Collective (PIAC)
Presence in ActionTM (PIA) Collective is a Community Interest Company.  Our Purpose is to facilitate personal learning[1]  and (re)generative relationships to enhance the wellbeing of people of all ages, everywhere we are. In practical terms, we do this by resourcing PIA Members to co-create PIA projects in the places we live and work, extending learning opportunities to people who often have least access.
We aim to do this through our pioneering business model based on our Sufficiency principle. We invite those who can, to pay forward for our services so that community organisations, local charities and groups may access our learning opportunities. Organisations that embrace this way of exchanging value with us, will be publicly acknowledged as E=E:Cos (Enough equals Enough Contributors) each year they participate. PIA Practitioners also embrace our Sufficiency Principle. We do this when we are able, by taking less of the delivery due to us, so we can contribute funds to a bursary pot to support individuals. The funds we collect are then used to support others to participate in the learning opportunities we offer.
[1] By this we mean "Symmathesic Agency: the meta-conscious capacity to engage in mutual contextual learning through self-centering interaction, in place in space in time" (Gardiner, PhD 2022).
R.A.D.I.C.A.A.L Expression (REX):
REX is the abbreviated acronym for this 'proof of concept' project. This consists of a small-scale prototype of a grand-scale concept R.A.D.I.C.A.A.L. Expression© (Record And Display In Creative Arts And Language). The overarching concept developed by Potent 6 integrates and leverages the creative arts and is to be licensed solely to the PIA Collective to develop and deliver. Potent 6 envisions a global platform for communities of interest/geography across the world to co-create their own locally relevant, wellbeing-enhancing projects under the banner of "R.A.D.I.C.A.A.L. Expression: transforming stories, transforming lives."
REAL Change changes:
This project began its life as 'Regenerating Engagement And Learning within and beyond IofC'.  The seeds for REAL were sown in 2010 when Louie first became involved with IofC.  Six of the 12 original REAL1 participants wanted to deepen their learning and skills so they could better accompany others using the Seed Behaviours and the P6 Constellation.  REAL2 commenced December 2016 with a further 12 participants joining the UK programme. In August 2017, Louie was partnered by Su Riddell from the first cohort in opening the opportunity to people internationally.  This first 7-day residential intensive in IofC's global fellowship home in Caux, Switzerland, marked the beginning of a new phase for REAL Change programmes. Since then, a praxis called Presence in Action has evolved which extends within and beyond IofC. IofC is inextricably connected to PIA Collective which supports outreach activity within Greencoat Place, in Edinburgh and increasingly in other parts of the world. In 2018 and 2019, we focused on running introductory PIA workshops under the banner of "REAL Change begins within" in Caux, Switzerland.
During the pandemic we began offering an online introduction to the programme. Our inention is to re-launch an in-person REAL retreat in Caux during the summer of 2023. This will be preceeded by a series of 10, weekly online sessions introuducing people to each of IofC's Seed behaviours.
The video below gives you a flavour of the first REAL Change programme in 2015-2016, with participants sharing some of the differences it made to them.
REAL Change programme
To find out more about IofC UK, click on the logo below.
Intergenerational Mediation – a county collaboration
A cross-county collaboration of inter-generational mediators participated in the POPIA training 2017 to support their volunteer work with families and communities in strife. Three bespoke EPIA trainings took place October 2017 introducing 30+ community mediators in how to use the P6 Constellation to help navigate community conflict.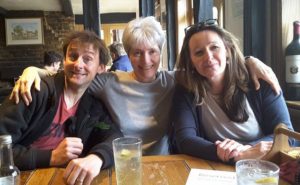 Warrington Health Plus CIC – Our Principles of Practice
Louie supported the newly formed Board and Community Interest Company to embrace and embed complexity principles in the way they approached and engaged in their work with their Clinical Commissioning Group and those involved in the wider health economy including national Health Sector stakeholders. [Download PDF]
UK Smoke-free Agencies – Self-organising Development
Louie worked with the lead Directors of three Smoke-Free agencies, enabling them to forge deep, respectful and robust relationships that transcended usual geographical and functional boundary constraints.  Despite structural changes in subsequent years , these Directors maintained close connections. [Download PDF]
Salford Health Matters CIC – Board Development
Louie was invited to support this new Community Interest Company get itself established. The Case Study documents some of the challenges they were facing and the outcomes of our work. [Download PDF]
Inspiring Leaders Programme:  Trafford Council
Louie first started working the Chief Executive and Executive Management team in 2005.  She was invited to expand what she was doing to include senior and middle managers – eventually leading to the design and delivery of the Inspiring Leaders Programme which included three cohorts of the top 60 senior managers in the Council. [Download PDF]
Old Trafford Inspiring Leaders – a place-shaping programme for community leaders
Several Senior managers who benefitted from the Inspiring Leaders Programme in Trafford MBC invited Louie to support them with their own teams.  One of these opportunities led Louie and her team into working with the Old Trafford Neighbourhood Management Board.  Potent 6 was commissioned by a multi-stakeholder partnership to design and deliver a community leaders' training programme to include both community members and staff working in the area.  See video . [Download PDF]
Moving Pictures
Gallery of images and videos that show the emerging roots and routes of the P6 Constellation, Systemic Agency Model and other related frameworks and projects created by Louie before, during and after her doctoral research.  This archive gathers together material that traces our past to present unfolding.
2008 Inspiring Leaders – Old Trafford: Video project filmed and produced by one of our OTIL participants. Clare Daly captures the essence of the project and participants share their experiences.
2010 Personal reflections on complexity: Louie's personal reflections on patterns past, present and future through the lenses of complexity sciences
2010: Centre for Confidence & Wellbeing – Leadership Journeys: Louie was invited to participate in this collaborative research project focused on leadership and equalities. The Centre for Confidence & Well-being and the Equality and Human Rights Commission commissioned this video.  It features participants involved in the project sharing their personal/professional experiences and perspectives on leadership.
2011: Inspiring Women Leaders… Dare we? : These films show what is possible when we engage with and welcome the passions and contributions of others… and dare to dance with the reality of complexity, uncertainty and emergence. Dare we? grew from the spark of an idea Louie had in 2010 triggered by much-publicised evidence illuminating the detrimental impact of having so few women in senior leadership and Boardroom positions.
2011: Dare we? explained: Louie uses the Landscape Diagram to describe and explain how 'Dare we?' came into being